James E. Ramsey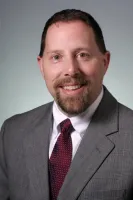 Jim was born Worcester, Massachusetts, 1968; admitted to bar January 3, 1996, United States Supreme Court, Massachusetts and Connecticut State Courts, and U.S. District Court, Districts of Massachusetts and Connecticut.
Education: Northeastern University (B.S. 1991, Summa Cum Laude); Northeastern University (M.S. 1992); Suffolk University Law School (J.D. 1995); two American Jurisprudence Awards
Admitted to Massachusetts state and federal courts and administrative agencies and U.S. Supreme Court 2002. Formerly admitted and since retired, Connecticut state 1996 and U.S. District Court, District of Connecticut 1997
In the past 27 years, as a lawyer, I have appeared before the Department of Industrial Accidents (workers' compensation court) more than 1000 times. I have litigated cases from the conciliation step 1 through the hearing (bench trial) step 3 and including the Massachusetts Supreme Judicial Court Wright's Case 486 Mass 98 (2020) and Appeal's Court - Baker's Case, 773 NE2d. 466, 55 Mass.App Ct. 628 (8/20/02) and several Reviewing Board Decisions.
John A. Leone
John graduated from Boston College, B.A., Political Science in 1990 and Suffolk University Law School, Cum Laude, in 1994. He is admitted in Massachusetts,1994; United States District Court for the District of Massachusetts, 1998; and United States Court of Appeals for First Circuit, 1998.
John has over 28 years of civil litigation experience and has Superior and District Court trial experience. He has broad experience in insurance defense including wrongful death, negligent security, premises liability, construction site accidents, product liability and motor vehicle accidents. He has successfully defended high exposure cases involving wrongful death, sexual assault, traumatic brain injury, amputation, and large property losses. He also has extensive experience in defending general contractors and subcontractors in construction design and defect claims.
Additionally, John has represented insurers in Chapter 93A/176D actions and litigation of indemnity and insurance coverage disputes and associated declaratory judgment actions. John's experience also includes prosecution of subrogation claims on behalf of insurers in property and liability, automobile, workers compensation and fidelity lines.
A Focus on Results
It is our belief that by concentrating our practice before the Department of Industrial Accidents as a lawyer and advocate we add value to your defense by keeping up to date on the changing nature of the practice, case law and the procedural rules.
Education
As a lawyer, part of the legal services that we offer to our clients include in-house training and educational materials on workers' compensation topics. Some of the written materials are designed for entry level understanding and others are for advanced claim handlers and employers.
We can provide training in a one-on-one setting, small groups or lecture style.
WCBA article (pdf)
WHAT'S NEW!
Wright's Case 486 Mass 98 (2020) -MEDICAL MARIJUANA.
Recent published article - MARIJUANA, CANADIAN CONSULATE GENERAL AND OPIOIDS